Jennifer Wilson at Simple Scrapper has started a new blog series entitled
Thirty Four Things I Want You To Know About Me
and I thought I'd join in! This 34 Things blog party is focused on celebrating
all about me
scrapbooking and Jennifer's upcoming Big Picture Classes workshop,
Before Your Story
. I decided to participate in the blog series by documenting 34 stories I intend to tell in the childhood album that I am planning to complete this year (as part of Jennifer's
Before Your Story
class)!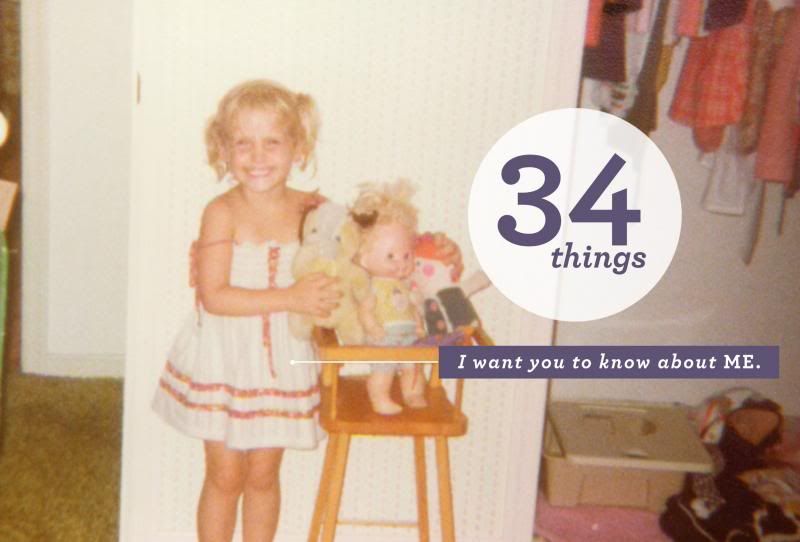 Thirty-four stories from my childhood -
1. Learning how to ride a bike
2. Winning the Best All Around Student at the 5th Grade Assembly
3. My love of Cabbage Patch dolls
4. Being a Brownie Girl Scout
5. My Mimi's VW bugs
6. The bookshelf Papa built for all of my books
7. The dollhouse my Dad built (and decorated) for me (it was AMAZING)
8. Playing softball
9. Spending entire weekends reading at my grandparents house (lots of Sweet Valley High books were read during that time)
10. How I chose what college to attend
11. Taking my first plane ride alone to visit my Dad and my Mom giving me a green CareBear to take with me on the trip
12. Visiting Scotland with Dad and Nina
13. Meeting Paul
14. Summer vacations at the beach with my Mom and her side of the family
15. My mom surprising me at the river with Tracie (she hit in the floorboard of the front seat and jumped out to surprise me)
16.Reading Little Women with my mom
17. Me and Tracie being 'the biting girls'
18. My decision to major in social work
19. The river - sticky floors, sleeping on the chaise lounge on the back porch, playing baseball, sitting on the porch playing cards and so much more
20. I was in the forensics club in high school
21. First boyfriend in elementary school
22. Going to the park and running on paths and exploring the woods for hours
23. Roller skating (especially the green skate skirt and the skates with green wheels)
24. Dad's sailboat
25. My high school obsession with New Kids on the Block, particularly Joey McIntyre
26. Going to camp at Lake Saranac and Lake Champion
27. Meeting my sister, Elizabeth
28. Beach week with Lynn
29. Visiting San Francisco in 1990
30. Christmas at Mimi and Papa's house
31. Crabbing at the main beach in Reedville
32. Voting in my first presidential election
33. Going to Disney with Mom, Dad, Mimi and Papa
34. Grandaddy's pipe
And so those are just 34 of the many stories that I plan to tell in my childhood album. I am so looking forward to participating in Jennifer's Big Picture workshop,
Before Your Story
, to begin putting this album together! In
Before Your Story
you'll learn a simple approach to autobiographical scrapbooking and create an album that captures your story, from birth to adulthood. Class begins February 27.
Are you interested in winning a spot in Before Your Story at Big Picture Classes?
ENTER TO WIN
by leaving a
COMMENT
on this post telling me a story you'd want to document from your own childhood or adolescence. I'll pick a winner on February 14th and announce it here on the blog!
About the Class
There are milestone events in life, such as marriage and motherhood, that divide us permanently into a "before" and an "after." It's easy to become so immersed in the after—the glorious here and now—that our "befores" rarely appear in our scrapbooks.
In this 6-week workshop with Jennifer Wilson of simplescrapper.com, you'll have all the guidance you need to tell your growing-up story in one gorgeous 12″ x 12″ pocket album. Her class combines the ease of slipping photos and journaling cards into photo sleeves with the brilliance of Stacy Julian's "Library of Memories" scrapbooking categories.
Jennifer excels at making big goals reachable and overwhelming projects finish-able, with her step-by-step processes and detailed planning worksheets. You'll complete a simple, streamlined album that will help your spouse or partner catch up on the years leading up to the moment you met. Or, it's the perfect answer to that age-old question, "Mom, what were you like when you were my age?"