Sunday, November 28, 2010
This will be the cover page for my Chicago Trip Album documenting my trip
to Chicago with Stephanie this summer!

Posted by

Amy
at 8:16 PM
No comments:
Links to this post

Saturday, November 27, 2010
I have another two layouts to share that I finished up recently that I thought I would share on the blog!
The first is of Meighan and one of her best friends from school. The photo was taken at another girl's party but these two are thick as thieves!
The next one up is a page that I created with a beautiful photo that Sami posted of herself on Facebook. I grabbed it and resized it for a scrapbook page. I wanted to keep it pretty simple so that the focus stayed on the beautiful photo!

Posted by

Amy
at 8:58 PM
No comments:
Links to this post

Hi everyone! It's been awhile but I wanted to come in and post some of my more recent layouts since that will give you an idea of what we have been up to ... I'll warn you that I've been really busy and haven't been able to do a lot however I have been trying to work on my family history scrapbooks as I'm able! Here are some new pages -

Posted by

Amy
at 8:49 PM
No comments:
Links to this post

Saturday, November 06, 2010
Welcome to the next stop on the SM DSD 2010 Blog Train! You should have arrived from
Fiona's blog
! Lots of goodies coming your way during this blog train!
We're all taking a minute to quickly tell you what we're thankful for and this is an easy one for me ... my family!!! I feel so lucky to have Paul, Sami, Meighan and Alex in my life! They are my rocks, the thing that gets me out of bed every morning. I am very lucky to have these four amazing people to share my life with each and every day!
And now onto your FREEBIE! Be sure to grab it up quick as it will only be available for one week! I've made up a cute little cluster (pre-shadowed) for you to use on your scrapbook pages!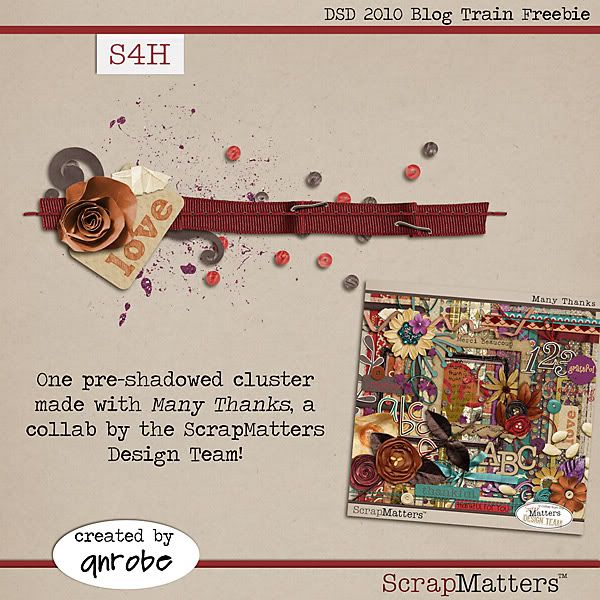 Sorry - the cluster is no longer available!!!! Thanks for visiting!
Don't forget that you can always head back to
ScrapMatters
(
here
) to see a full list of the blog train participants! Thanks so much and have fun on your blog train journey!

Posted by

Amy
at 10:00 AM
8 comments:
Links to this post